Safeguard Security – Monitoring Centers
Monitoring software and hardware is only as good as the people backing it up.  As a result, Safeguard is committed to having the most qualified and extensively trained personnel using the most advanced technologies available.  This serves the singular purpose of providing our customers with the very best monitoring services. Protecting lives and property while ensuring the safety and welfare of employees and families that we serve means that we never take shortcuts.

No other monitoring provider in the industry has invested more resources in pursuit of this mission.  Safeguard monitoring facilities consistently exceed the most stringent industry standards. These include UL and FM certification for our Monitoring Control Centers, Department of Defense accreditation, FDNY certification and more. Our main Central station on the East Coast is 75,000 sq. ft. and we also use a 21,500 sq. ft. full-load capable West Coast facility to provide redundancy.
Our enhanced monitoring centers are custom designed and maintained to exceed all industry standards and to provide the ideal work environment for our employees to serve our customers. Our work areas and on-site training centers have been cited as the best in the business.

TMA Five Diamond Certification
TMA (Formerly CSAA) Five Diamond Certification is granted annually only to monitoring centers that satisfy all of the requirements of the five points of excellence.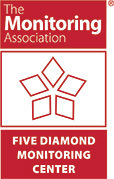 Commitment to random inspections and quality criteria standards by a nationally recognized testing laboratory such as FM Approvals, Intertek/ETL and UL.

Commitment to the highest levels of customer service.

Commitment to ongoing job-related education and testing by having 100% of its central station operators certified using the TMA online training series.

Commitment to raising the industry standards through TMA membership and participation in its activities.

Commitment to reducing false dispatches.
Network Security
Using some of the most advanced encryption in the world, our advanced network security systems include Dual IBM/Proventia Network Multi-Function security firewalls and redundant Blue Ridge crypto-servers creating a VPN "cryptographic tunnel" for external remote access.
Emergency Operators
All Central Station Operators are among the most highly-trained professionals in the monitoring industry. Our intensive six-week training program, certified by the Security Industry Association (SIA), is the most stringent in the industry.
Power Back-up
​Dual, digitally-controlled Caterpillar diesel generators, supported by independent 1200 gallon fuel tanks, supply 1.2 megawatts of secure standby power.
* Pictures of actual employees, facilities and equipment.
[vcex_image_carousel items="6″ mobile_portrait_items="2″ center="true" img_size="medium" thumbnail_link="lightbox" img_hover_style="grow" image_ids="266,267,268,269,270,271,273,274,275,276,277,278″]
Call  Us TODAY at 404-998-5634 for a FREE Quote
Or Use the Contact Form Below for a Response Via Email

Contact us today for a quote!
404-998-5634
info@thesecurityforce.com
Offices Located in:
West Palm Beach/Lake Worth, Florida
Fort Lauderdale/Broward County, Florida
[vcex_testimonials_carousel css_animation="right-to-left" animation_speed="8000″]